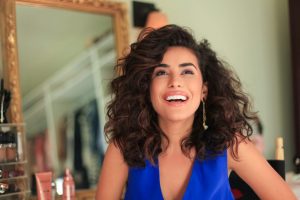 A cascade of curls, African-style afro, angels weaves or maybe lovely little coils? Curly hair has more than just one visage. Such a diversity of hairstyles is a result of the wide choice of hair styling accessories that are available on the beauty market. Recent months can be called the Renascence of Hair Rollers, therefore, today we're going to shed more light on these evergreen hair tools. What kinds of hair rollers do we currently have at our disposal?
SELF-GRIP HAIR ROLLERS
Self-grip rollers are extremely light so these are worn comfortably as they don't weight a hairdo down. However, it's important to learn how to apply and remove the items so as not to pull out or damage hair (because of the burr). In most cases, their diameter is large, which brings about the effect of soft weaves, noticeably lifted up at the roots or a hairdo full of volume. Self-grip hair rollers are also available in smaller sizes, which can be used to style curls of sharp curves.
CURL PAPERS
The most popular hair rollers of the foregone century are definitely long curl papers. These have soft, spongy structure. Their shape, length and specification help us with obtaining the effect of so-called 'artistic chaos' on our head. Accordingly, it would be hard or even impossible to do glamour-style weaves using curl papers. Generally, the main idea of using these hair rollers depends on rolling possibly the thinnest hair strands around a curl paper, which have to be necessarily combed once unveiled.
THERMO ROLLERS
The greatest solution for women having longer hair is offered by thermo rollers. These are available in various sizes which assists the females to obtain weaves of many scales. The thermo rollers have to be supported by a clip that helps keeping hair around the items. Effect that this kind of rollers produces is possible thanks to the item's high temperature. For that reason, it can be stated that the hairdo they produce is permanent. At the same time, it's important to be careful when using this hot tool.
CONICAL HAIR ROLLERS
The least popular yet offering the most natural effect of curls of various sizes is posed by conical hair rollers. In general, hair has to be curled around the roller starting form the narrower part of the item and finishing at the bigger part, that is tipped with burr. The great advantage of this hair tool is that strands can be rolled already form their roots. Thanks to conical hair rollers it's possible to obtain angels or beachy waves.
PERM ROLLERS
Most often these are made of wood, rarely of plastic. Although this kind of rollers is destined for perm, these are still up and running in every beauty parlour. Nowadays, hairdressers seldom use the old-school version of perm rollers (the ones with rubber elements). Perm rollers are of super small sizes, are long and narrow. With the aid of perm rollers the effect of tiny curls is obtained.