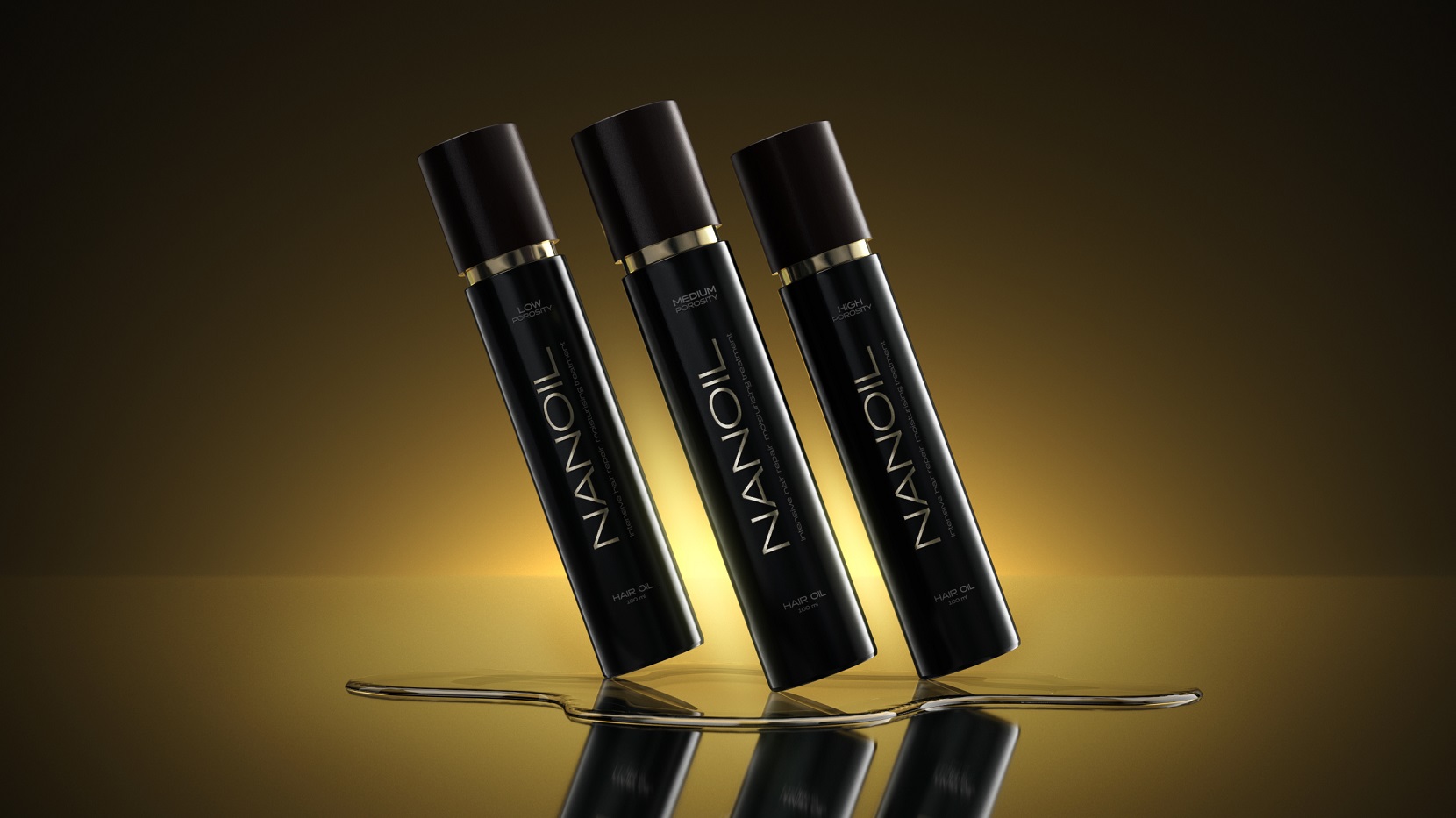 1. DESCRIPTION, INGREDIENTS
Nanoil Hair Oil has been created in three versions, strictly connected with hair structure (porosity and condition). It is a great alternative to ampoules or even outclasses them. Why? The oil has natural ingredients, conditions the scalp, reinforces and nourishes even inactive bulbs. You can use it when you want and the way you like. The task of every version of Nanoil Hair Oil is the same:
regenerates and nourishes
stops thinning and hair loss
awakens hair bulbs and stimulates them to work
keeps the scalp healthy
beautifies and strengthens hair throughout its length
fixes the internal and external hair structure
The difference lies in the choice of natural oils and other conditioning ingredients in a given Nanoil version.
What is the reason for such diversity and division?
You must be aware that damaged hair (with highly raised scales, high porosity) and thick, heavy hair (with tight cuticle layer, low porosity) need different oils. On the other hand, medium porosity hair has a good condition yet it is far from perfect: it is often dull, weak, frizzy and thinning. Natural oils in each Nanoil version match hair structure of a specific hair type. As a result, they provide maximum care, repair, nutrients and protection.
Nanoil Hair Oil is a revolutionary and unusual hair product because apart from natural oils, it also includes special, high-quality substances that activate hair growth, inhibit hair loss and boost body. Thanks to the regular use of Nanoil, your hair gets voluminous, hair grows stronger and healthier.
What is the genius of Nanoil? It works like ampoule treatment but it is free from parabens and other unnatural, often controversial substances.
Nanoil delivers similar effects to ampoule treatments. It works both on bulbs and scalp, conditioning and restoring natural pH. A direct influence on hair follicles stimulates even the inactive bulbs; they start bearing new hair that will grow healthy, strong and well taken care of.
An innovative recipe of Nanoil Hair Oil allows for matching the product to hair structure and porosity. As a result, natural ingredients work in three ways: on the scalp, hair bulbs and directly nourish your hairdo. Natural oils together with many active ingredients (depending on the version: lanolin, keratin, vitamin A or E, liquid silk, panthenol) repair damage in hair fibre and cuticle layer. Nanoil enhances and beautifies your hair from roots to ends.
2. PURPOSE, EFFICIENCY
As there are 3 types of hair porosity and each needs different hair care (ingredients and products), the composition of Nanoil Hair Oil matches their structure:
Nanoil for High Porosity Hair takes care of dry, brittle and damaged hair,
Nanoil for Medium Porosity Hair nourishes hair that loses its condition and gets frizzy, dull and thinning,
Nanoil for Low Porosity Hair adds body to heavy, thick hair that is difficult to style and easily weighed down with unsuitable products.
Nanoil is good value for money: one bottle lasts 3-5 months of treatment, depending on how often you use it and how many methods you go for.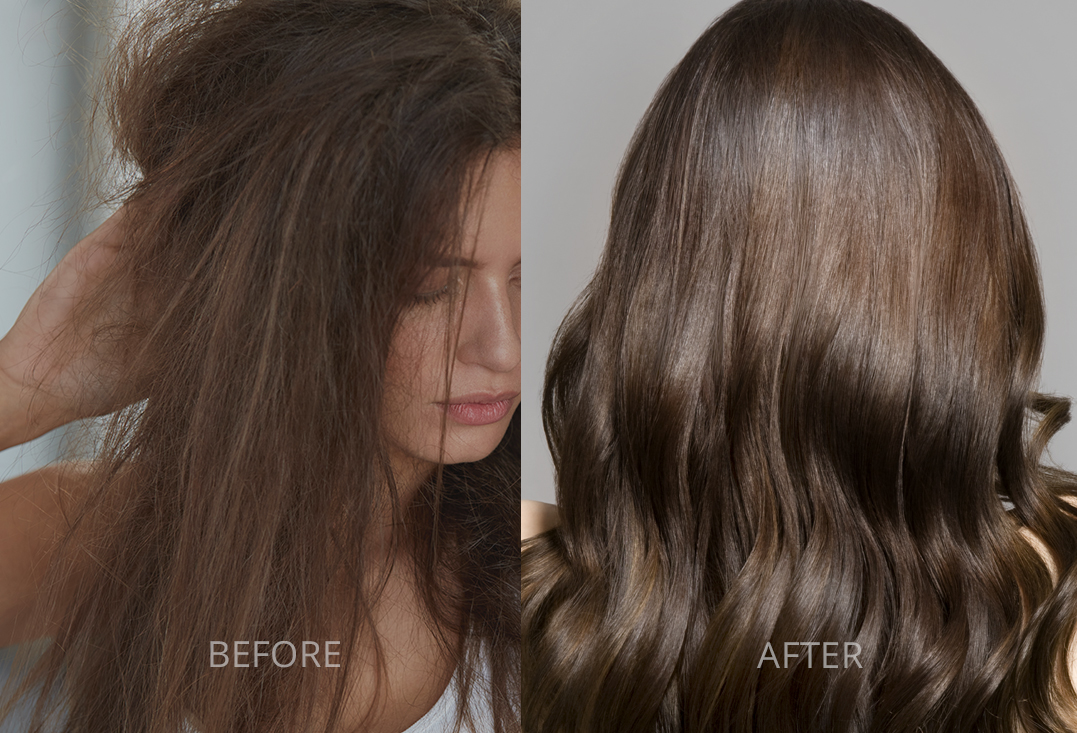 3. APPLICATION
Similarly to ampoule treatments, Nanoil is suitable for scalp use to reinforce and regenerate bulbs, force them to work thus boost hair growth.
Contrary to traditional ampoules, Nanoil moves one step further in hair care. You can apply it to hair to repair it along the stem, protect from damage and heat-styling, reinforce hair ends, tame unruly strands, deliver radiance and bounce without weighing down.
4. ACTION, EFFECTS AFTER TREATMENT
You can use Nanoil without breaks – whenever you feel your hair needs it. You can complete the treatment with one bottle (Nanoil repairs your hair after 30 days) or use it non-stop in a form of a delicate beautifying and protecting conditioner that works all the time to keep your hairdo healthy and beautiful. It is amazing that even when you complete Nanoil treatment, your hair stays healthy and strong for a long time. The results are long-lasting.
5. RATING AND SUMMARY
Nanoil Hair Oil is an innovative, modern and unusual oil – a versatile, repairing, protecting and beautifying treatment. It does not disturb your scalp. It is non-comedogenic. The product matches hair structure, delivering ingredients just right for your hair. It is multidimensional hair care that is an excellent alternative to ampoules, conditioners and beautifying lotions. Nanoil is a hair care genius.