The best hair-growth treatment? Some of you point to ampules that you rub into the scalp to strengthen the hair follicles. There's a cheaper alternative that gives better results, though: Nanoil Castor Oil. See how it works and if it can really aid you.
Oil treatment is one of the best hair-care methods used since the ancient times. Today, we like to reach for natural oils more and more often because we are aware of the power that each oil drop holds. A simple-looking castor oil makes a perfect example – thanks to the composition of essential substances, it guarantees hair strength, thickens and beautifies. What does the oil do exactly?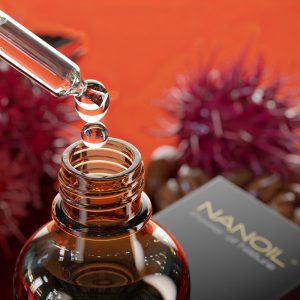 Castor oil in hair care
Castor oil is a hit among all hair-care junkies – a natural hair strengthener whose availability and effectiveness make it extremely popular. A good-quality castor oil cleanses, reinforces and stimulates hair growth, therefore, it's a great scalp treatment. The oil contains unique ricinoleic acid that can't be found in other oils and has an antibacterial effect. Thanks to these properties and the fact that it's an emollient (maintain hydration) like any other oil, it perfectly enhances weak hair. Obviously it works well for other types of hair as well. There's a reason why it's labeled the best hair-growth oil – see how it improves the hair and fall in love with the inconspicuous castor oil.
Nanoil Castor Oil
The castor oil by Nanoil is the best out of all castor oils. It isn't much different when you look at it – a straw-colored, lightweight oil that barely has any aroma. Still, this simple oil houses the maximum amount of nutrients since it's cold-pressed and unrefined. Thanks to this method of extraction, the Nanoil Castor Oil is like a treasure trove of nutrients that condition the hair from the follicles to the ends. It's really effective.
What effect does the Nanoil Castor Oil have?
It strengthens weak hair follicles.
It stimulates faster hair growth.
It prevents hair loss.
It thickens and adds volume.
It may slightly darken the hair color.
It gives a dazzling shine.
It shields the ends from splitting.
It makes the hair less oily.
It aids in fighting persistent dandruff.
It reduces scalp irritation.

Easier and better application
If you use ampules, you must choose really good ones and perform long-term treatment to get the above effects. On the other hand, the natural hair care tops them thanks to the easy use – you just need to take a drop of castor oil and gently rub it in the hair roots doing a relaxing scalp massage. The great thing is you can use this oil solo or mix it with other oils. What's more, unlike most oils, castor oil is water-soluble, which lets you make use of its properties in different combinations: blend of oils, homemade hair masks, in combination with hyaluronic acid. Because the Nanoil Castor Oil has endless uses, it gives plenty of benefits. At the same time, it's all-natural and safe.
Nanoil Castor Oil: more than a hair oil
It's good to know that the organic castor oil from Nanoil is a perfect natural product that isn't merely a scalp and hair care oil. The oil comes in a dark glass 50-ml bottle and is a truly multi-tasking cosmetic that aids daily personal care. It's the most popular as a hair oil but it can be also used for treating acne skin (it has antibacterial properties, reduces inflammation and enhances the treatment) and for removing makeup (particularly if your skin is oily and you want to balance the production of sebum). It gives even more benefits, though! Feel free to use the castor oil to strengthen the nails and make them resistant to breakage and splitting.
Source: www.nanoil.us/castor-oil