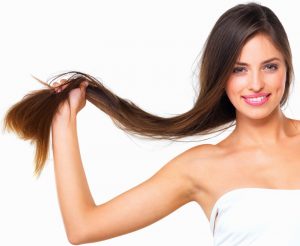 Proper hair care involves washing and conditioning with a mask or conditioner. We are making use of hair oils more and more often. All these elements provide complex action – moisture, nourishment, repair and better appearance of our strands. What if we want to boost hair growth? There is a way to do it.

When we imagine our dream hair, we always think about long hair. Lots of women value the length of hair over its condition. Hair growth depends on our genes. It is usually about 0.5 inches per month. Suitable hair care can enhance hair growth to the maximum!
We are presenting hair care methods that really work. If you use them regularly, you hair can grow even two times faster. We cannot expect a product to work wonders but regular and proper care will surely deliver surprising effects in long-term treatment.
Ways of boosting hair growth:
Diet supplements with biotin (vitamin B7)
Nettle or horsetail infusion
Scalp massage with fingers or a massager
Scalp lotions
Liquid paraffin mixed with yolk
Hair oils e.g. castor oil, amla
Yeast treatment – drinking or rubbing in the scalp
Diet rich in omega-3, omega-6 acids and iron
All these hair growth home methods are effective on condition that you use them in a proper way. Take supplements as recommended – not longer than three months. Massage scalp lotions and oils into the scalp. Hair growth depends on hair bulbs. If we stimulate micro-circulation and apply the product to the roots, the effects will be quicker and more intensive.
There is a common myth that considers trimming hair and its influence on growth. It is not true that if we trim hair, it grows more quickly. Our hair grows at the roots – it doesn't lengthen at the ends. However, regular trimming makes hair much healthier and less brittle and consequently – longer.